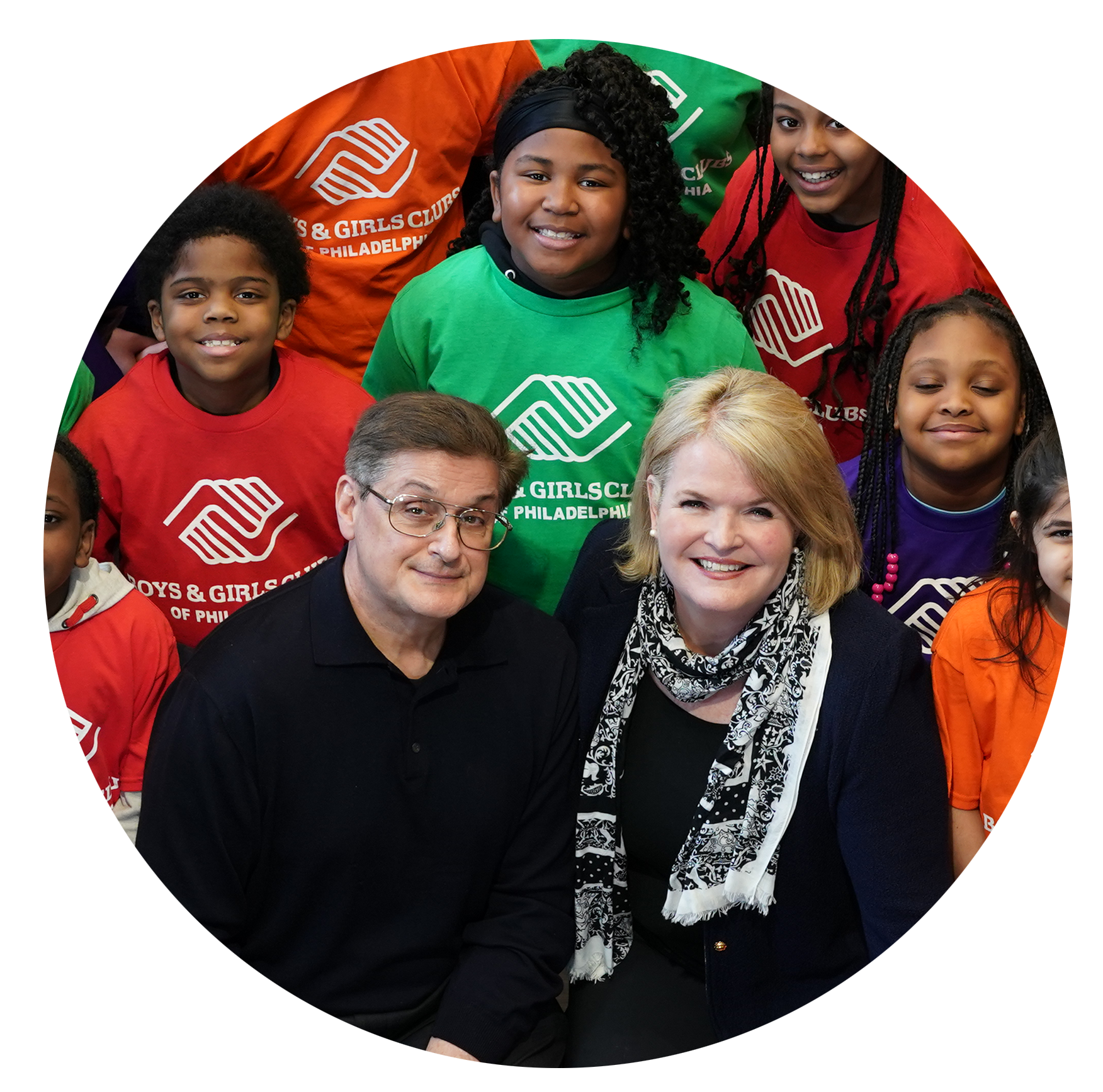 Lisabeth and Joseph Marziello
President-Chief Executive Officers
With experience as a robust U.S. based President-CEO team, Lisabeth and Joe Marziello are renown for successfully creating high-performing organizations by building organizational, financial and board infrastructure. The current footprint of the Boys & Girls Clubs of Philadelphia employs over 220 employees, servicing 22 locations throughout the Metro area. Before taking leadership of the Boys & Girls Clubs of Philadelphia, the Marziello' s managed multi-faceted operations in Oregon, Wisconsin, and New York. Their leadership transformed all these Clubs into outstanding youth guidance and development organizations with quality staff, facilities, and programs supported by financial stability and clearly defined standards. Since coming to Philadelphia, the Marziellos have raised over $120 million in revenue to support programming, operations, and capital investment. Their leadership has resulted in improved financial stability and security, new innovative programming, growth of membership and services, and substantial improvements to Club facilities.
After taking leadership of BGCP, the Marziellos eliminated the organization's debilitating operating deficit. For the last five years, BGCP has realized an average operating surplus of over $1.7M annually, with a 600% increase in donor support from FY13 to FY22. Even as they increased revenue, the Marziellos have reduced BGCP's reliance on program fees by increasing funds from individual donors and community support, as well as private and public grants. A key to this success was building brand awareness through the introduction of the Philly Showcase of Wine, Cheese, and Beer (now Coach's Private Reserve Dinner) which raised over $3.1 million dollars in its 11th year, a 4,033.33% increase when compared with the organizations 2012 Spring Gala. While increasing revenue, the Marziellos have worked diligently to reduce debt and control spending. From FY13 to FY20, they quintupled the size of the organization's endowment and eliminated 100% of long-term debt, helping set a path for long-term fiscal stability.
In addition to strengthening the financial stability of the organization, the Marziellos have grown BGCP's programs, youth memberships and services. In 2013, they initiated the Call-to-Action Literacy Initiative, which now reaches over 1,400 youth at 15 Clubs throughout the city. In 2014, they introduced STEM learning Labs, to provide youth with 21st century skills, and in 2017, they opened the organization's first Kids Café to ensure that all kids have access to healthy, home-cooked meals. Today the Kid Café operates at four (4) locations; Germantown, NE Frankford, Wissahickon, and Wayne Boys & Girls Clubs. The Marziellos also retained funding and support from 21st Century and AmeriCorps to strengthen the organization's literacy and STEM footprint along with $1.9M from the Pennsylvania Commission on Crime & Delinquency to exclusively serve the teen population. As program quality improved, membership grew, with a 65% increase from FY2013 to FY2022.
Notably, the Marziellos launched a Bold Change for Kids campaign to raise the funds needed to transform aging, dilapidated, Boys & Girls Club facilities into state-of-the-art Clubs for youth. Over the last four years, they have secured over $25 million in capital funds. In the fall of 2019, they broke ground on the 27,000 sq. ft. Germantown Club, which has since been named after the Founder of Comcast Corp., Ralph J. Roberts.
During the Covid-19 pandemic, the Marziellos strength in crisis management exceeded all expectations. Their team became essential workers with the development of the D.E.F.Y (Digital Education for Youth) virtual platform, they served over 350,000 meals at 15 locations to low income families over a 14 month time span, they retained over 220 employee positions, provided in-person programming at 15 locations, raised over $15M in donor support, and strategically continued their Philly Showcase of Wine, Cheese & Beer "Coach's Private Reserve Dinner", under an illuminated open-air tent, along the Delaware River, in addition to their annual Michael Chapman Memorial Golf Outing, raising over $3M with these events during a global pandemic.
Lisabeth & Joseph Marziello received their Bachelor of Arts degrees from Whittier College in Whittier, CA. Before joining the Boys & Girls Club movement, Lisabeth worked in marketing/advertising for several Los Angeles companies including Backer Spielvogel Bates; Foote, Cone & Belding; and Eisaman, Johns & Laws. Joseph joined the Pittsfield Boys Club at the age of seven; as an adult he started his career at the Boys Clubs of Fullerton, CA before taking the nation by storm with Lisabeth.
Todd Wagner
Chief Financial Officer
Todd Wagner, VP of Financial Services for the Guardian Foundation serves as the CFO for Boys & Girls Clubs of Philadelphia. During his 25 year's working with the Guardian Foundation and its affiliates, Mr. Wagner interfaced with CHR's regional consulting teams and clients on financial and operational matters, including assisting in the development of Accounting and Business Office policies and procedures.  He  oversaw the annual budget process for all managed facilities, as well as oversaw facility development and expansion for CHR's clients. Mr. Wagner coordinated the due diligence, financial analysis and financing of potential acquisitions or expansion for CHR or its clients.  Mr. Wagner also performed the financial assessment component for all financial and operational assessment consulting engagements.
Mr. Wagner received his M.B.A. in Finance from St. Joseph's University, Philadelphia, PA and his B.S. in Business Administration from Albright College in Reading, PA.
Jeffrey A. Agranoff
Chief HR Officer
Jeff Agranoff is the Chief Human Resources Officer and a Human Resources Consulting Principal at Grassi for the Boys & Girls Clubs of Philadelphia. With over 18 years of experience working in public accounting firms, Jeff specializes in heading human resource departments, providing outsourced human resource solutions to clients, and growing middle-market businesses in various industries. Prior to joining Grassi, Jeff was the Chief Operating Officer and a Human Resources Principal at a top 50 national accounting firm.
Jeff has written numerous articles on topics such as workforce management, millennial training, and the management of professional services firms. He serves on the Advisory Board at the University of Buffalo's School of Management.
Ariel Goldring
Executive Vice President of Strategic Support, Training, and Systematic Development
Ariel Goldring is passionate about youth development and education. In 2014, she earned a Master's Degree from Temple University in Urban Education, graduating Summa Cum Laude, with a concentration in school-community partnerships and Out of School Time learning. Ariel discovered her love of Boys & Girls Clubs while working as a program assistant at the Fairmount Club during college. Ariel brings a depth of knowledge regarding education, public policy, and urban affairs to the team, having presented academic work at the SEDAAG and AAA conferences. After completing her undergraduate degree, Ariel served for two years as an AmeriCorps member with City Year Greater Philadelphia, leading the Young Heroes Program, before re-joining the Boys & Girls Club team.
Since 2013, Ariel has taken on a variety of roles at Boys & Girls Clubs of Philadelphia and quickly developed as a leader in the organization. In 2013, under the guidance of the CEOS, she oversaw the launch of the Club's Call to Action Literacy Initiative, which was successfully piloted in six clubs in 2013 and, to date, has expanded to 12 clubs. In 2019, under the vision of the CEOs, Ariel helped plan and facilitate training to establish the introduction of multisensory literacy programming to Boys & Girls Clubs in Southern California.
Working with a fast-paced and innovative CEO Team, Ariel has been able to be flexible and support the momentum which has been advantageous in successfully securing over $17 million in private and public grant funding since 2013, including $3 million in Capital Grant Funding. In 2018, she was instrumental in launching BGCP's AmeriCorps Great Futures program through a $900,000 three-year grant awarded by the Corporation for National and Community Service. As a highly analytical thinker, she has developed data-driven proposals and reporting mechanisms, ensuring that BGCP is able to accurately measure and assess its impact on youth.
Jerry Houck
Executive Vice President of Programs, and Facility Operations
Gerald Houck, a Boys & Girls Club Alumni, is an Executive Program Officer for Boys & Girls Clubs of Philadelphia, with over 15 years of professional youth development experience. Jerry's goal is to provide leadership and strategic direction to the Boys & Girls Clubs of Philadelphia, which prides itself on being the premier youth development agency in Philadelphia. He believes in win-win situations and helping young people succeed. Experienced in staff development, program development and evaluation, facility management, community relations, and special events. Jerry has a particular interest in supporting underserved and at-risk populations. He enjoys developing his team members as they are the future of the Boys & Girls Club Movement. Jerry earned a B.S. in Sports & Recreation Management from Temple University and has been working with the Boys & Girls Clubs of Philadelphia for over 14 years.
Libby Lescalleet
Executive Vice President of Programs, Partnerships, and Development
Libby Lescalleet, with over 20 years of youth development experience and 17 with Boys & Girls Club, is a dedicated advocate for the personal growth and development of young people. Over her tenure with Boys & Girls Club, she has grown partnerships in underserved areas to ensure that youth who need us the most have access to quality youth development programming. These ventures have included summer-based programs serving migrant families, opening new doors in public housing communities for youth and their families, and offering training and technical assistance to Clubs in Indian Country. She is dedicated to the professional development of staff on both the national and local levels, and has served as a National Training Associate for Boys & Girls Clubs of America and a conference adviser to Regional Keystone events.
As a graduate of LaSalle University, service to the community has also been a focal point for Libby. Prior to working with the Boys & Girls Club, she facilitated summer and environmental education programs for youth from the Boston Area, started enrichment camp-based programs on the Rosebud Reservation in South Dakota, and took part in cross-cultural programs for youth and teens in Chile.
Through dedicated service to youth and their success, she has been honored within the communities she serves with the Crime Prevention and Livability Award, Rose CDC Community Leader Award, and the Portland Police Community Police Problem Solving Award.
Kelly Lemberger
Executive Vice President of Literacy, Education, and Training Initiatives
Kelly joined the Boys & Girls Clubs of Philadelphia in 2015 and since then has overseen the implementation of the Call to Action Literacy Initiative, coaching and developing literacy staff to strengthen youth literacy outcomes. Kelly is passionate about youth education and community service. Before coming to the Boys & Girls Clubs of Philadelphia, Kelly worked with City Year Philadelphia as an AmeriCorps Member and later as a Program Manager. In that role, she managed AmeriCorps Members in Philadelphia public schools and supported the organization's literacy training and initiatives. Kelly graduated from the University of Notre Dame with a Sociology degree and an Education minor. Throughout college, she was dedicated to community-based education research and supporting youth programming in local schools and organizations. Kelly's experience includes volunteer management, program evaluation, and facilitating community partnerships.
Shakir Johnson
Vice President of Programs & Athletics
Shakir Johnson, a Boys and Girls Club Alumni and our Vice President of Programs and Athletics, is passionate about sports and teen programming. After his high-level basketball playing career was cut short due to injuries, Shakir returned to the Club that supported him during his teen years, to educate Philadelphia's youth in what it takes to get to and play at the next level. A graduate of Pierce College, Shakir has a passion for helping club teens develop the physical and mental stamina needed to prepare for higher education and/or the workforce. Over the last eight years, Shakir has taken on a number of roles within the Boys & Girls Clubs of Philadelphia.
His leadership transformed the lives of our kids and families, ensuring that they have access to hot meals, transformational programming, and caring adults. In his role as the Unit Director of the Shane Victorino Club, Shakir's recruitment and outreach efforts, increased membership by 300 Percent, with over 1,000 members enrolled in each of the last four years, making the Shane Victorino Club the first in the organization to engage more than 1,000 members annually. As the Vice President of Programs and Athletics, Shakir is dedicated to enhancing athletic programs throughout the organization, increasing teen membership, and developing leadership and mentoring opportunities for teens throughout Philadelphia.
Mare Shipton
Vice President of Youth and Family Services
Mare Shipton has over 18 years of youth development experience with the Boys & Girls Clubs of Philadelphia, finding her passion for the movement as a college student. During her tenure with BGCP, Mare has led numerous program areas, including Arts & Culture, Project Learn, and many facets of youth and family service, always striving to meet youth where they are and continuously advocating
Over the last 10 years, Mare played an instrumental role in expanding and supporting the organization's Out of School Time programming from six to nine clubs, ensuring that we reach more of the youth who need us the most. Most recently, she has helped design and implement D.E.F.Y. Club, a digital Club experience for youth to access critical programs during the COVID-19 pandemic. As a liaison between families and vital human services, Mare is strategic in ensuring youth reach their full potential while gaining access to necessary programs. Mare earned a B.S. in Interdisciplinary Studies from Ellis College, with a concentration in Behavioral Science, Social Science, and Math/Physics.
Shanelle Coleman
Vice President of Outreach and Programs
Shanelle Coleman has been a part of the Boys & Girls Clubs of Philadelphia for nearly 20 years. Working as a summer camp counselor from 2001-2003, Shanelle then graduated from Millersville University in 2004 with a Bachelor of Arts in Psychology and a minor in Sociology. Since then, Shanelle has worked at several of the Boys & Girls Clubs of Philadelphia locations including Germantown, Wissahickon, Northeast Frankford, and Wilson Park. As the Vice President of Outreach and Programs, Shanelle has a passion for ensuring that each of the Boys & Girls Club members has a safe place to go no matter what, and nurturing and developing a connection with those members to ensure stability in their lives. In her various leadership roles at the clubs, Shanelle has built concrete relationships with each club member that she encounters and supports an open-door policy for all children that walk through the club doors.
Ariel Cerud
Vice President of Programs & Training
Ariel Cerud is Vice President of Programs and Training at Boys & Girls Clubs of Philadelphia. He has over a decade's experience in project and program management, community relations, advocacy, and fundraising in the non-profit sector. Ariel began his career with Boys & Girls Clubs of Portland (BGCP), where he successfully provided leadership, direction, and administration of the organization's youth development programs and services in after-school centers, serving over 2,000 youth annually.
Prior to BGCP, he served as Associate Director, Corporate Relations at the Planned Parenthood Federation of America & the Planned Parenthood Action Fund, where he helped establish PPFA's first-ever corporate engagement program. There, he focused on establishing and building holistic partnerships and engagement opportunities with Fortune 500 companies, their consumers, and their employees, with a specific focus on technology and the arts and entertainment industry.
Ariel graduated from Portland State University with a degree in Political Science and is a graduate of the Boys & Girls Clubs of America School of Management.
Wendi Wingfield
Finance Specialist
Wendi R. Wingfield has more than 18 years of Accounting and Finance experience. Having studied at Peirce College, Wendi continued her education in Fort Washington, where she obtained multiple payroll certifications. She is highly committed to demonstrating professional excellence with each and every project. Her path to becoming a Bookkeeper started in 1977 when she was offered a position in the Accounting Department of Commercial General Union Insurance Company in Philadelphia, PA. As an Accounts Receivable Clerk, she understood the importance of correctly coding and entering payables to the proper payment. Her responsibilities included managing vendor files, issuing checks, and maintaining good vendor relations. Wendi has experience working with a variety of payroll, financial, and reporting systems, including: Great Plains, BlackBaud, Sage MIP Accounting, ADP Payroll, and Proxus Professional Payroll System.
In November 2003, she joined the Boys & Girls Clubs of Philadelphia team as a Bookkeeper, where she was responsible for preparing and processing the bi-weekly payroll for approximately 175 employees. In 2013, she was promoted to Finance Specialist, becoming the Liaison for the organization's Finance Department, and is now responsible for Payroll, Accounts Receivable, Banking, and Financial reporting for the Development Team. Family is a very important part of Wendi's life, and she carries that loyalty into her work, having now worked for Boys & Girls Clubs of Philadelphia for over a decade.
Shanalee Wint
HR Specialist
Shanalee is an alumnus of the Boy & Girls Clubs of Philadelphia. While in high school, Shanalee used her summers to volunteer and work for the Philadelphia Youth Network. Shanalee went on to pursue her studies at the Pennsylvania State University in 2016, where she graduated with a B.S. in Business Administration and a concentration in Accounting. Shanalee went on to receive her teaching certification and started working as a Kindergarten teacher where she enjoyed molding, fostering, and shaping the young minds of her students.
Shanalee's interest in HR peaked when she saw how employees were poorly treated and discriminated against. She started classes on HR relations where she has been working in non-profit and Human Resources for the past five years.
Shanalee had overseen the Pennsylvania and New York City Benefit Center to gain access to diverse funding and cross-sector partnerships to provide benefits designed for the financial stability of PA and NYC.
She joined the Boys & Girls Clubs in November 2021 where she continues to expand her knowledge and uses her experience to provide opportunities for individuals.
Shanalee's passion for HR goes beyond opportunities and due to that, she wishes to pursue her master's in Professional Human Resources and Employment Labor Law.